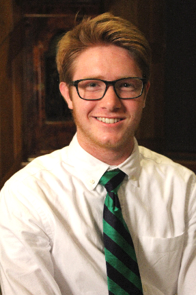 Campus Compact, a Boston-based non-profit organization working to advance the public purposes of higher education, has named John Carroll University student, Sean Freeman, as a Newman Civic Fellow. Freeman, a communication major, is one of 268 students across the country who will make up the organization's 2018 cohort.
"I am incredibly honored to have received this award and become a part of an amazing network of motivated, passionate individuals," says Freeman. "I hope to utilize the connections I make and the resources I am given to improve our world for all."
A member of the John Carroll Class of 2019, Freeman is from La Grange Park, Illinois. He is passionate about social justice, as demonstrated through his work with the Coalition of Immokalee Workers (CIW), his participation with the University's U.S.-Mexico Border Immersion Trip, and his role as immersion trip leader to El Salvador. He is also a member of the Student Leadership Team for the University's Center for Service and Social Action and serves as a Catholic Relief Services Student Ambassador. Freeman has brought representatives from the CIW to campus, organized student fasts in solidarity with the Immokalee Workers, and organized discussions and visual installations across campus for John Carroll's weeklong "People Over Politics" conversation on immigration in 2017.
The Newman Civic Fellowship, named for Campus Compact co-founder Frank Newman, is a one-year experience emphasizing personal, professional, and civic growth. Through the fellowship, Campus Compact provides a variety of learning and networking opportunities, including a national conference of Newman Civic Fellows in partnership with the Edward M. Kennedy Institute for the United States Senate. The fellowship also provides fellows with access to apply for exclusive scholarship and post-graduate opportunities.
The Newman Civic Fellowship is supported by the KPMG Foundation and Newman's Own Foundation.
Contact: Tonya Strong-Charles |  Executive Director of Media Relations | 216.397.1958 or tstrong@jcu.edu 
Posted on March 9, 2018