John Carroll University is launching a newly designed Educational Leadership program focusing on principal and leadership preparation of K-12 teachers in public and private schools. A key component of the Master of Education degree program is the opportunity to earn a Certificate of Assessment and Accountability; John Carroll is one of only a few universities in Ohio that incorporates the certificate with the M.Ed. curriculum. Applications open on December 1, 2017, and classes begin in Fall 2018.
"This certificate is one of the factors that makes our program distinct," says program coordinator, Lisa Shoaf, Ph.D. "It is increasingly important for teachers at the elementary, middle, and high school levels to be able to assess whether academic programs are achieving the expected outcomes that are crucial for student success." The Certificate of Assessment and Accountability empowers teachers and administrators to understand and make data-driven decisions.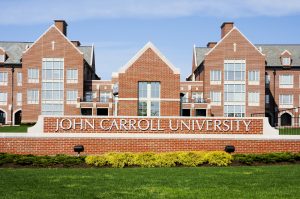 Catherine Rosemary, Ph.D., chair of John Carroll's Department of Education and School Psychology, highlights Principal Licensure. "Our Educational Leadership program is comprehensive, which is essential for teachers seeking to become principals – who are in a position to improve school systems and classroom culture," says Dr. Rosemary. The program is designed to accommodate working professionals by incorporating hybrid and online classes each semester.
Licensed teachers will receive a tuition scholarship.
Priority consideration will be given to qualified professionals seeking early acceptance into the program. The early acceptance deadline is January 22, 2018. Applications received after the early acceptance deadline will be considered on a rolling basis. For questions about the Educational Leadership program and the application process, contact Lisa Shoaf at lshoaf@jcu.edu.
Tonya Strong-Charles |  Executive Director of Media Relations | 216.397.1958 or tstrong@jcu.edu 
Posted on November 30, 2017