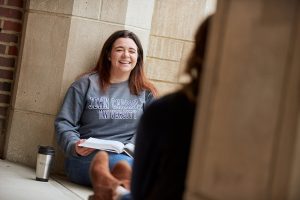 John Carroll University moved up in the most recent U.S. News & World Report "Best Colleges" guide, earning a ranking of #6 in the Midwest. This is the 29th consecutive year that John Carroll made the list of "top 10" regional universities, landing one spot higher for the first time in recent years. JCU is also recognized among schools offering the best value, ranking #7 in the "Great Schools, Great Prices" category.
"This is an exciting time in John Carroll's history as we strengthen signature programs, such as Accountancy and Pre-Health Professions," says Dr. Jeanne Colleran, interim president of the University. "In addition to hiring a significant number of new faculty in key academic areas, we remain true to our mission to educate the 'whole person' with an emphasis on academic excellence and professional ethics." John Carroll appointed 18 new faculty members this year, bolstering several majors, including: Management, Marketing, and Supply Chain; Communications; Education; and Sports Studies. The University's professional development programs have dramatically expanded over the last couple of years, with hundreds of students having the opportunity to pursue paid internships in a variety of fields – from Business, to Computer Science, to English.
Support for military veterans is another key area where John Carroll shines in the annual rankings: the University stands at #5 among its peers, based on efforts to make college affordable for veterans and active-duty service members.
The U.S. News & World Report college rankings are available online. The print edition of the "Best Colleges 2018" guidebook will be available in stores starting October 10. Read more JCU stats here.
Contact: Tonya Strong-Charles |  Executive Director of Media Relations | 216.397.1958 or tstrong@jcu.edu 
Posted on September 12, 2017