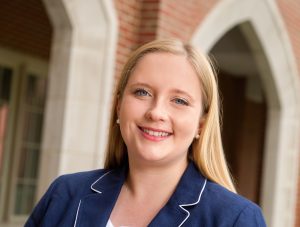 The 2017 NBC / John Carroll University "Meet the Press" Fellowship recipient is Mary Frances McGowan. The John Carroll University senior is a double major in communications and political science.
McGowan is from Brecksville, Ohio.
She served as editor-in-chief of the University's student-run newspaper, The Carroll News. Additionally, McGowan has completed internships with WKYC-TV, and with the office of U.S. Congresswoman Marcia L. Fudge.
McGowan is one of 20 members of the John Carroll Class of 2017 selected for the University's Leadership Scholars Program. She is also the recipient of the Plain Dealer Scholarship, awarded for excellence in print journalism.
She is a member of the National Communication Association Honor Society, Lambda Pi Eta; the National Political Science Honor Society, Pi Sigma Alpha; Society of Professional Journalists; and Kappa Delta sorority.
The NBC/John Carroll University "Meet the Press" Fellowship was created in 2009 in memory of the Sunday morning program's legendary host, Tim Russert, a 1972 graduate of John Carroll. It is awarded annually to a John Carroll graduating senior who plans to pursue a career in political journalism. The Fellowship is a nine-month position at NBC's "Meet the Press," based in Washington, D.C.
McGowan will gain experience in the research and production of the weekly political talk show under the direction of the program's executive producer.
Posted on August 22, 2017