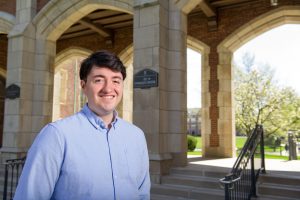 Ricardo Caraballo '17 has been selected to receive a prestigious Fulbright Fellows grant to study in Japan for the 2017–2018 academic year.
Caraballo is a sociology and East Asian studies double major from Parma Heights, Ohio. During his 10 months in Japan as a Fulbright Fellow, he will conduct research on citizenship, including how individuals who hold dual citizenship choose which citizenship to keep. By law, they must make a choice when they turn 22.
Caraballo is the first in his family to attend college and is self-taught in Japanese. In fact, he was fluent before he ever took a class in college. He earned his GED at age 20, completed his first two years of college at Cuyahoga Community College, and then came to John Carroll to complete his bachelor's degree. He chose JCU specifically for the University's strong East Asian Studies program, which would complement his sociology major.
This is Caraballo's second opportunity to study in Japan. In 2015, he received a prestigious MEXT (Ministry of Education, Culture, Sports, Science and Technology) Japanese Studies Scholarship from the Japanese government and studied for 11 months at Sophia University in Tokyo. During the previous summer, he was awarded a Shepard Poverty Internship and was a data and research intern for an agency that works on public housing problems in and around New York City.
The Fulbright Program, established in 1946, is sponsored by the U.S. State Department. It is the flagship international educational exchange program sponsored by the U.S. government and is designed to "increase mutual understanding between the people of the United States and the people of other countries."
Contact: Tonya Strong-Charles |  Executive Director of Media Relations | 216.397.1958 or tstrong@jcu.edu 
Posted on April 25, 2017