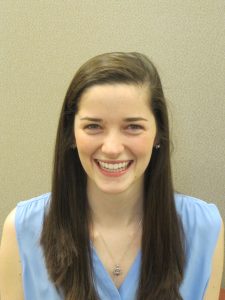 Congratulations to John Carroll University junior, Kathleen (Katie) English, who has been named a winner of the 2017 Charles J. Ping Service Award by Ohio Campus Compact! The Ping Service Award recognizes and honors undergraduate students' outstanding leadership and contributions to community service on their campus and within their community. Ohio Campus Compact is a statewide non-profit coalition of 40 college and university presidents and their campuses working to promote and develop the civic purposes of higher education. Additionally, Katie is the recipient of the Compact's Seretta Saylor Legacy Award, which highlights individuals whose compassion and generosity systemically address economic, emotional and environmental needs in a community.
Katie is being recognized for her dedication and support of the Fatima Family Food Drive, a Thanksgiving food drive that provides 125 families with a week's worth of food during the week of Thanksgiving, including a holiday meal. She has served as co-chair of the food drive for the past three years. She is also a member of the Arrupe Scholars Program at John Carroll and is an active participant in the University's Center for Service and Social Action.
Charles J. Ping served as President of Ohio University from 1975 – 1994. An early supporter and Board Member of Ohio Campus Compact, Dr. Ping has been a tireless advocate for campus-community partnerships and increased opportunities for students to become active and engaged citizens.
Seretta Saylor was an inspirational and generous individual who understood the importance of education, communication and community.
Contact: Tonya Strong-Charles |  Executive Director of Media Relations | 216.397.1958 or tstrong@jcu.edu 
Posted on April 24, 2017