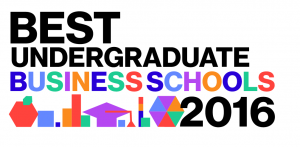 Bloomberg Businessweek's 2016 "Best Undergraduate Business Schools" Employer Survey ranks John Carroll University's John M. and Mary Jo Boler School of Business #1 in the nation. The Boler School is ranked #30 overall in the country. Bloomberg Businessweek surveyed nearly 30,000 students and recruiters at almost 600 companies. The employer survey measures recruiter opinions on how well undergraduate programs prepare students for careers at their companies.
"This ranking is great news, highlighting that employers view our graduates as exceptional," said Alan Miciak, Ph.D., dean of the Boler School of Business at John Carroll. "It demonstrates that our outstanding faculty support and curriculum, combined with business partnerships and internships, prepare John Carroll graduates to compete, lead, and succeed throughout the U.S."
One way the Boler School prepares its students to succeed after graduation is through the exclusive Professional Development Program, a four-year program dedicated to providing students with step-by-step career-building experiences.
A full list of the rankings and methodology can be found on the Bloomberg Businessweek website.
Contact: Tonya Strong-Charles |  Executive Director of Media Relations | 216.397.1958 or tstrong@jcu.edu
Posted on April 20, 2016