John Carroll University has established the Mike Cleary Program in Sports Studies, a new academic major to help students gain and develop the knowledge and abilities to succeed in leadership roles in sports administration, coaching, and other careers.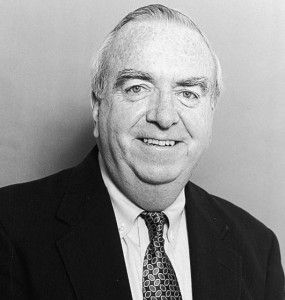 The program is named in honor of Mike Cleary, a 1956 John Carroll graduate and the emeritus executive director of the National Association of Collegiate Directors of Athletics (NACDA). Cleary held the job of executive director from the association's founding in 1965 through 2011. Under his leadership, the association expanded from a 300-member organization to one with more than 6,500 athletic administrators in about 1,600 institutions and organizations throughout the United States, Canada, and Mexico.
Cleary began his career in athletic administration at John Carroll, serving as the University's sports information director from 1953 to 1955 while he was a student. "Upon my retirement, I was approached by several schools about becoming involved in their sports administration programs," Cleary said, "but I felt it was most appropriate to invest my energy in this new program at JCU, because Carroll gave me the opportunity that launched my 60-year career in athletics."
The Mike Cleary Program in Sports Studies includes various courses from academic departments and programs throughout the University, including economics, ethics in sports, and sports psychology. Depending on their career goals, students can combine the sports studies major with minors in other fields such as business.
To gain professional experience, sports studies majors are required to complete an internship with area sports organizations, education institutions, or recreational or health facilities. The program also includes a partnership with NACDA to help connect students with mentoring and job shadowing opportunities with professionals in sports-related fields.
"We are grateful for Mike Cleary and his generosity and vision in helping establish this interdisciplinary sports studies program," said Jeanne Colleran, Ph.D., provost and academic vice president. "Mr. Cleary has reflected great honor on John Carroll through his professional service and community involvement, and we are pleased to recognize his legacy. It's especially fitting that we have developed a sports studies program, given the many John Carroll alumni who have achieved considerable success at the highest professional levels in exercise science, coaching, recreation, and sports management in many organizations, including the National Football League."
The Mike Cleary Program in Sports Studies began enrolling its first students in the fall 2014 semester. Visit the Sports Studies website to learn more.
Contact: Tonya Strong-Charles |  Executive Director of Media Relations | 216.397.1958 or tstrong@jcu.edu 
Posted on October 8, 2014