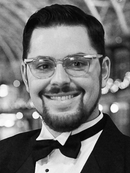 Daniel Caine, a student in John Carroll University's Master of Arts in English program, has received the Midwestern Association of Graduate Schools' Excellence in Teaching Award. The award is presented annually to one master's-level and one doctoral-level graduate student.
The selection committee recognized Caine for his innovative teaching style. He serves as assistant director of the JCU Writing Center and coordinator of the University's Young Writers Workshop for high school students. Caine also is poetry editor of the John Carroll Review, a literary journal featuring poetry, short fiction, essays, and artwork by JCU students.
As an award recipient, Caine will receive an honorarium from the Midwestern Association of Graduate Schools. He also has been invited to speak at the association's annual conference in Chicago this April.
Posted on March 21, 2014