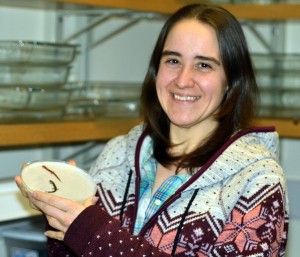 John Carroll University biology graduate student Julie Ziemba has been awarded a $6,000 grant to study invasive Asian earthworms in Northeast Ohio. The two-year grant is funded by the Geauga Park District.
Invasive earthworms have been identified as a growing threat to forest-floor communities in the deciduous forests of the Great Lakes region. These forests have no native earthworms. However, little is known about the biology and ecology of the invasive earthworms, particularly the more recently arrived, aggressive Asian earthworms.
Ziemba's study will investigate these earthworms and their impact on red-backed salamanders. The research conducted in the Geauga Park District will form the basis for her master's thesis. Ziemba studies in the laboratory of Carl Anthony, Ph.D., associate professor of biology at JCU.
Ziemba earned her B.S. in biology from John Carroll in 2009. Following graduation, she worked in a Lyme disease ecology lab at the Cary Institute of Ecosystem Studies in Millbrook, New York. Ziemba returned to JCU in 2013 to pursue her master's degree.
Visit the JCU Department of Biology website for more information on its undergraduate and graduate programs, including research opportunities.
Posted on March 4, 2014