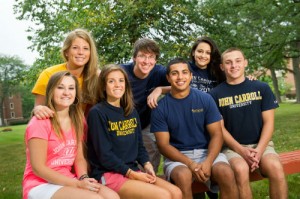 John Carroll University is ranked #7 overall in the Midwest in U.S. News & World Report's 2014 edition of Best Colleges. This marks the 25th consecutive year that the publication has named John Carroll a top 10 regional university offering master's programs. The University earned the #1 spot for a "Strong Commitment to Undergraduate Teaching," and ranks an impressive #5 in the best value or "Great Schools at Great Prices" category.
"We are especially pleased to be recognized by the U.S. News Group's Best Colleges 25 years in a row," said John Carroll University President Rev. Robert L. Niehoff, S.J. "I'm delighted that the rankings affirm our outstanding faculty's dedication to undergraduate teaching.  The majority of John Carroll students graduate in four years, at a time when five and six years are becoming the norm at colleges and universities nationwide. We are very proud of the contributions our graduates make to society," added Niehoff.
John Carroll also appears on the list of colleges and universities nationwide that demonstrate significant local and global engagement through "Service Learning." JCU students performed more than 70,000 hours of community service during the 2012-13 academic year and serve as a vital resource to nonprofits and other organizations in the Cleveland area and the broader region. These experiential learning opportunities—as well as an increasing focus on meaningful internships, student research, and immersion experiences—are preparing John Carroll students to be ethical 21st century leaders.
The Best Regional Universities category focuses on schools that primarily offer a full range of undergraduate programs and some master's programs. There are 159 universities in 12 states in the Midwest region.
The exclusive rankings are available today at www.usnews.com/colleges. The 2014 edition of the Best Colleges guidebook is available at USNews.com and will be on newsstands September 24.
Posted on September 10, 2013