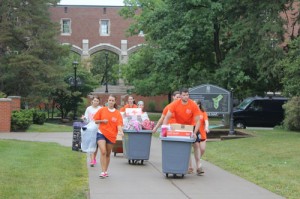 John Carroll University welcomed the largest class of incoming students in a decade today. Students, parents, and family members arrived on campus with truck beds overflowing, minivans stuffed, and luggage strapped to vehicle rooftops, continuing the tradition of move-in day at JCU.
The Class of 2017, composed of approximately 800 students, hails from 310 high schools, 21 states, and six foreign countries. More than 300 students come from outside of Northeast Ohio, led by the Western New York and Greater Pittsburgh areas. While 13 percent of the class identified as first generation (the first in their family to attend college), an impressive 25 percent of the class has an immediate or extended family member that attended John Carroll.
Academically, the class boasts an average high school GPA of 3.53. More than one-third of the class indicated an interest in pursuing science and technology at JCU, while just over one-quarter of the incoming students plan to major in business.
"We are really excited to hand off this Class of 2017 to the campus community this fall," Brian Williams, vice president for enrollment, said. "This class is one of the largest to join John Carroll—actually the largest in my seven years at the University. It's a very diverse class on many measures, and I am really excited to see how they will engage us all and take full advantage of the John Carroll experience in the years ahead."
Posted on August 28, 2013