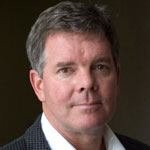 "The Writer's Almanac with Garrison Keillor" featured the poetry of John Carroll University associate professor of English, George Bilgere, Ph.D., on Wednesday, July 31.
Former U.S. Poet Laureate Billy Collins hosted the show for Keillor, and read Bilgere's poem, "Taking Out the Trash." The nostalgic poem appears in Bilgere's book, "The White Museum" (2010). This reading marked the 40th time that works by Bilgere have been featured on "The Writer's Almanac." The program is broadcast by public radio stations nationwide as well as on SiriusXM satellite radio. It also is available as a podcast.
Bilgere has authored five collections of poetry, including "The White Museum." An award-winning poet, Bilgere has been a member of John Carroll's faculty since 1991. For more information, visit the Department of English website.
Posted on July 30, 2013