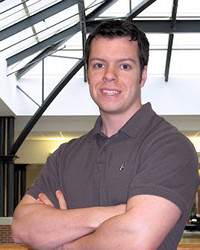 Recent John Carroll University graduate Gregory Gutmann '13 has received a full scholarship from the Japanese Ministry of Education, Culture, Sports, Science, and Technology to pursue a master's degree in computational biology at the Tokyo Institute of Technology (TITECH).
After learning of the scholarship opportunity from Roger Purdy, Ph.D., associate professor of history at JCU, Gutmann began a competitive, yearlong application process. He communicated often with his future advisor at TITECH, detailed his past academic work, outlined plans for his future research, and interviewed with other faculty from the institute.
Gutmann majored in computer science and East Asian studies at JCU, participating in off-campus learning experiences in both disciplines. He traveled to Japan for a two-week study tour in summer 2010, and studied there during the fall 2012 semester through a JCU-sponsored exchange program with Nanzan University. Gutmann also was selected twice for high performance computing internships with NASA, working with its Center for Climate Simulation and Earth Science Division.
On the JCU campus, Gutmann completed an independent study in 3-D and parallel computing under the guidance of Victor Lee, Ph.D., visiting assistant professor of computer science. Gutmann also presented his scholarly work twice at the University's annual Celebration of Scholarship, including a Japanese language flashcard application that he developed. In spring 2013, Gutmann received the Fr. Richard J. Schuchert, S.J., Memorial Prize in East Asian Studies in recognition of his academic achievements and commitment to the field.
Gutmann, of Solon, Ohio, plans to begin the master's program at TITECH in October. His scholarship also can be extended to fund doctoral studies.
Posted on May 29, 2013