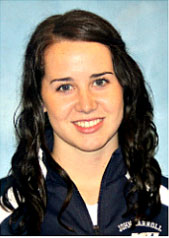 Senior catcher Mackenzie Griffin '13 of John Carroll University leads the 2013 Capital One Academic All-America® Division III Softball Team, as selected by the College Sports Information Directors of America (CoSIDA).
A communications major with a 3.72 grade point average, Griffin has been chosen as the Capital One Division III Academic All-America® of the Year award winner for softball. She is the first student-athlete in any sport at John Carroll to receive this honor. To be eligible for Academic All-America® consideration, a student-athlete must be a varsity starter or key reserve, maintain a cumulative GPA of 3.30 on a scale of 4.00, have reached sophomore athletic and academic standings at his/her current institution and be nominated by his/her sports information director.
One of 11 first time selections on this year's Capital One Academic All-America® Division III Softball first team, Griffin is a 2013 National Fastpitch Coaches Association (NFCA) third-team All-American and first-team All-Central Region selection. A native of Lake Oswego, Oregon, she is a three-time All-Ohio Athletic Conference honoree, earning first team honors this season.
Griffin led the Blue Streaks to a pair of NCAA Division III regional appearances. As a senior, she set a John Carroll single season record with a .548 batting average as she led the OAC in hitting. She also hit a conference record-tying 20 doubles with three homers and 43 RBI while leading her team to a 26-13 record.
She finished her career with a .390 batting average while setting school records with 165 games played, 126 runs scored, and 199 base hits.
Since the program's inception in 1952, CoSIDA has bestowed Academic All-America honors on more than 18,000 student-athletes in Divisions I, II, III and NAIA, covering all NCAA championship sports.
For more information about the Academic All-America® Teams program, please visit www.cosida.com and www.capitaloneacademicallamerica.com.
Posted on May 22, 2013