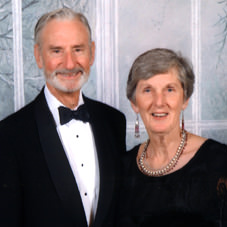 Barbara S. Schubert '62, '67G, '80G, retired associate director of the Ohio Ballet and member of the John Carroll University Board of Directors, and her husband, John, will receive honorary doctorates for their unwavering dedication to JCU and its Jesuit mission at John Carroll's Commencement Exercises on May 19, 2013.
Barbara and John Schubert's long commitment to education and service is extraordinary. Both are retired educators who have served as volunteers to several Jesuit organizations and, in December 2012, were named Founders of the Chicago-Detroit Province of the Society of Jesus.
Mrs. Schubert has served as a member of the John Carroll University Board of Directors since 1990 and chaired numerous Board committees. She also served on the boards of Boys Hope Girls Hope and the Ignatian Volunteer Corps. Mr. Schubert serves on the board of the Ignatian Solidarity Network and tutors at Saint Martin de Porres High School in Cleveland. A former English teacher at Gilmour Academy and University School, Mr. Schubert taught freshman English and Composition at John Carroll during the 1969-1970 academic year. In addition, he served as a trustee of the Jesuit School of Theology in Berkeley, California. Both were inducted into Alpha Sigma Nu, the national Jesuit honor society, in November 2012.
Both Schuberts served on the advisory committee of the Freedom to Serve Campaign for the Detroit Province of the Society of Jesus Development Committee. With some members of this committee, the Schuberts traveled to Tanzania to visit Jesuit works throughout the country. They returned to Tanzania for the spring semesters of 2005 and 2006 to teach and tutor students at Loyola High School in Dar es Salaam, Tanzania, who were encountering difficulty with English.
A three-time alumna of John Carroll University, and 2007 John Carroll Alumni Medal honoree, Mrs. Schubert earned her bachelor's degree in social sciences in 1962. She took classes entirely at night because women were not yet permitted daytime enrollment. In 1967, she earned a master's degree in literature, and in 1980, she earned a master's degree in remedial reading. She spent several years educating young people and was an English and speech teacher at John Adams High School, The School on Magnolia (now The Eleanor Gerson School), and Ruffing Montessori School, before joining the Ohio Ballet as the general manager in 1987. She retired from the ballet in 1999.
The Schuberts are exceptionally generous supporters of John Carroll University and its Jesuit values. In 2007, the couple announced a significant gift to support mission and identity programs at the University. In addition, they have provided leadership support for the Carroll Fund and have supported minority scholarships, diversity initiatives, the Institute of Catholic Studies, ethics seminars, science and technology campaigns, and many lectures and special projects.
John and Barbara Schubert are being honored for their support of John Carroll and the Jesuits, education, and the arts in our region and beyond.
Contact: Tonya Strong-Charles |  Executive Director of Media Relations | 216.397.1958 or tstrong@jcu.edu
Posted on May 9, 2013