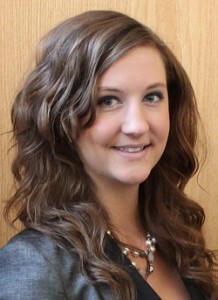 Lisa Marie Perry '14 has been selected for a new internship with Turner Broadcasting System established exclusively for a John Carroll University student.
Perry will work for 10 weeks this summer in Turner Digital's New York office. The paid internship is designed to help a JCU student gain professional experience in one of the world's premier advertising and marketing firms. Turner Digital's portfolio of sites includes CNN.com, NBA.com, NCAA.com, PGA.com, TBS.com, and adultswim.com.
JCU alumnus, Walker Jacobs '97, executive vice president of Turner Digital, established the internship in collaboration with Jeanne M. Colleran '76, Ph.D., dean of the College of Arts and Sciences at JCU.
Perry is a communication arts major and entrepreneurship minor from Gibsonia, Pennsylvania. She has participated on JCU student teams in the American Advertising Federation's National Student Advertising Competition and the Entrepreneurship Immersion Week at Case Western Reserve University. She also studied in Europe for a semester through the John Carroll University at Vatican City program, serves as president of the JCU Dance Team, and is a member of Lambda Pi Eta, a national communication honor society.
Posted on April 30, 2013