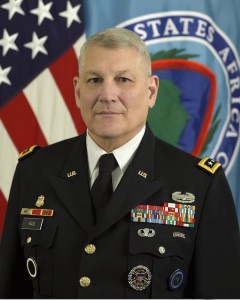 General Carter F. Ham will deliver the 2013 commencement address at John Carroll University on Sunday, May 19, at noon. He will receive an honorary doctorate during the ceremony, during which approximately 650 undergraduate and 200 graduate students will receive degrees.
General Ham served as an enlisted Infantryman in the 82nd Airborne Division before attending John Carroll. He is unique among his peers, as the only serving Army four-star general to have started his career as an enlisted man. Ham was commissioned in the Infantry as a Distinguished Military Graduate in 1976. One of only 12 four-star generals in the U.S. Army, he is the sole John Carroll alumnus to hold the prestigious rank, and is a member of the University's Reserve Officers Training Corps (ROTC) Hall of Fame. John Carroll is the local Army ROTC headquarters for Cleveland colleges and universities.
"General Carter Ham is an American hero and we are proud to call him part of our John Carroll family," said John Carroll University President Rev. Robert L. Niehoff, S.J. "Through his exemplary service and commitment, General Ham is living the mission of Jesuit Catholic education, inspiring today's students to become great leaders who have a lasting, positive impact on our world," he added.
General Ham commented on his JCU experience, saying, "It is truly an honor to be the keynote speaker at my alma mater's commencement. I feel as though I've come full circle at John Carroll, as it is the place where I found my faith and my wife."
He most recently served as Commander for the United States Africa Command. General Ham also served his country through assignments in Italy, Germany, Saudi Arabia, Qatar, Macedonia, and Iraq, to name a few.
During his nearly 40-year career, he has held a variety of positions to include: Recruiting Area Commander; Battalion Executive Officer at the National Training Center; Advisor to the Saudi Arabian National Guard Brigade; Commander, 1st Battalion, 6th Infantry; Chief of Staff, 1st Infantry Division; Commander, 29th Infantry Regiment; commander, Multi-National Brigade, Mosul, Iraq; Commander, 1st Infantry Division; Director for Operations, J-3, The Joint Staff, Washington, DC.
He was also previously Commanding General of U.S. Army Europe and 7th Army.
His military education includes the Armor Officers Advanced Course, Naval College of Command and Staff, graduating with distinction, and the U. S. Air Force's Air War College.
General Ham's awards and decorations include Army Distinguished Service Medal, Defense Superior Service Medal with three oak leaf clusters, the Legion of Merit with two oak leaf clusters, the Bronze Star Medal, and the Joint Service Commendation Medal. He will officially retire from the United States Army in June 2013.
In 2010, Ham was awarded John Carroll's Alumni Medal. He is married to Christi Ignaut Ham '75, whom he met at the University. Their wedding was held on campus, in Rodman Chapel.
Posted on April 15, 2013