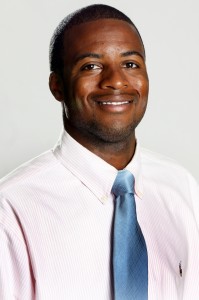 John Carroll University Senior Director of Athletics Laurie Massa announced today that Brian Small will become the head coach of the new varsity men's lacrosse program, which will begin play in spring 2014. Small most recently served as the assistant coach at Quinnipiac University (Hamden, CT).  In 2011, Quinnipiac reached the championship game of the inaugural Northeast Conference lacrosse tournament and won the inaugural regular season championship.
A native of Baltimore, Maryland, Small was a four-year letterman in lacrosse at Ohio Wesleyan University, where he helped the Battling Bishops capture four consecutive North Coast Athletic Conference (NCAC) titles and appearances in the NCAA Tournament. Small was twice selected first team All-NCAC and, in 2005, was an NCAA United States Intercollegiate Lacrosse Association All-American, as well as a member of the prestigious North South Senior All-Star team.
"Brian provides the right mix of experiences in collegiate lacrosse and the enthusiasm for building the program here at John Carroll," said Massa. "He has worked hard to develop as a coach and recruiter, and his connections in the Mid-Atlantic and Midwest regions will serve us well.  We are excited to have him join our staff, in our pursuit of championship lacrosse."
"It is important to get the John Carroll name out in lacrosse circles, to let people know we have a program, and that our commitment to academics and athletics provides an ideal place to continue playing lacrosse while pursuing a college degree," said Small. "I want us to compete for conference championships and ultimately play our way into NCAA tournaments. To establish ourselves as a perennial power in the region as well as the country is something we should aspire to as a program."
Read more at JCUSports.com.
Small graduated in 2005 from Ohio Wesleyan with a degree in Sports Management. He also briefly played for Major League Lacrosse (MLL) team, the Baltimore Bayhawks, before embarking on a coaching career that includes stops at his alma mater and Sacred Heart University.
Posted on December 4, 2012