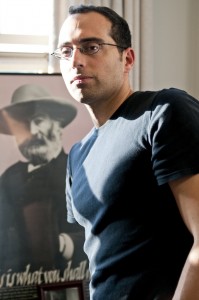 Philip Metres, Ph.D., professor of English, has been named a recipient of the 2013 National Endowment for the Arts Fellowship in Creative Writing (Poetry). The $25,000 award represents the highest standards of excellence and engaging the public with diverse and excellent art, a primary goal of the NEA.
For his submission, Dr. Metres included poems from his current book manuscript, titled, "Sand Opera," a book-length meditation on fatherhood and war during the post-9/11 Terror Wars.
This NEA Fellowship provides Dr. Metres with the opportunity to work on revising his book, and future poetry projects which will explore the crucial groundwork of peacebuilding in Northern Ireland, Israel/Palestine, and in the U.S. The NEA Fellowships are designed to allow recipients time for writing, research, and professional development.
Metres is the recipient of the 2012 Lucrezia Culicchia Award for Teaching Excellence, awarded annually to a faculty member in John Carroll University's College of Arts and Sciences.
Posted on November 28, 2012