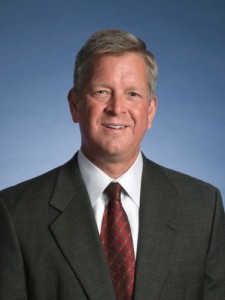 Each semester the Edward J. and Louise E. Mellen Series on Publicly-Held Corporations brings to students, faculty, and the broader business community the opportunity to meet executive officers of Ohio-headquartered companies and learn about the strategic focus of their companies and the challenges they face.
This year, the Boler School of Business at John Carroll University proudly welcomes John M. Stropki, chairman, president, and CEO of Lincoln Electric, to campus on Tuesday, Nov. 6, 2012, at 5 p.m. in the D.J. Lombardo Student Center Conference Room. A reception will follow.
Stropki has spent his entire adult life with Lincoln Electric. He worked summers at Lincoln's headquarters and major manufacturing operations in Euclid, Ohio, before graduating from Purdue University in 1972 and coming to the company full time. He became president of the company's North American business by 1996 and joined the board of directors two years later. In 2004, he was elected chairman, president and chief executive officer.
Lincoln Electric's 117 year tradition of excellence, innovative solutions, technological leadership and commitment to customers, employees, and shareholders stems from the vision of its founder, John C. Lincoln, and his brother, James F. Lincoln. Founded in 1895, Lincoln Electric is now the world leader in the design, development and manufacture of arc welding products, robotic arc-welding systems, plasma and oxyfuel cutting equipment, and has a leading global position in the brazing and soldering alloys market. Headquartered in Cleveland, Ohio, Lincoln has 45 manufacturing locations, including operations and joint ventures in 20 countries, and a worldwide network of distributors and sales offices covering more than 160 countries.
Lincoln Electric has been recognized for its rich history, strong culture and fundamental principles that have enabled it to continue providing excellent value to customers, shareholders, and employees throughout the years.
This event is free and open to the public. To register, visit the Mellen Series website.
Posted on October 26, 2012