A new collaborative program between John Carroll University (JCU) and the Cleveland Heights-University Heights School District means students who participate in Heights High's R.E.A.L. Early College small school may earn up to two years of college credit. R.E.A.L. stands for "Relevant, Experiential, Active Learning."

The program, an opportunity for CH-UH students to develop 21st century skills and attend classes at John Carroll, will make it possible for students to complete all of their core high-school requirements at Heights High by the end of sophomore year.
Students who demonstrate a mastery of high school classes may enroll in college-level courses at John Carroll during their junior and senior years. Students in the program will also enroll in high-school electives at Heights High to ensure they still experience all that high school has to offer.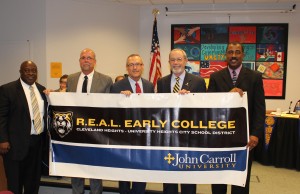 "This partnership with JCU will expose Early College students to a real college setting and college-level academics. It will build their confidence and make higher education affordable, a reality some didn't think possible," says Marc Aden, REAL Early College principal. "Successful participation in the early college high school experience will also significantly increase our students' opportunities to complete their bachelor degree program after their completion of high school."
"John Carroll University is excited to partner with the Cleveland Heights-University Heights school district's Early College High School," adds Mark Storz, Ph.D., associate dean, College of Arts and Sciences, John Carroll University. "We already have a mutually supportive relationship, and this program will give our faculty the opportunity to engage in cutting-edge education reform."
Photo details:
John Carroll University and Cleveland Heights-University Heights (CH-UH) school district officials celebrate the launch of the Early College program partnership at the Sept. 4 school board meeting. Pictured are (left to right): CH-UH Assistant Superintendent, Jeffery Talbert; JCU College of Arts & Sciences Associate Dean, Dr. Mark Storz; CH-UH School District Superintendent, Douglas Heuer; JCU Provost and Academic Vice President, Dr. John Day; CH-UH R.E.A.L. Early College High School Principal, Marc Aden.
Posted on September 7, 2012