The U.S. Olympians weren't the only ones winning medals this month. John Carroll students also gave us a medal-winning performance. The JCU Entrepreneurship Immersion Week (EIW) team took the bronze at the 2012 Entrepreneurship Education Consortium Immersion Week, which took place August 5-10, 2012, on the campus of Case Western Reserve University.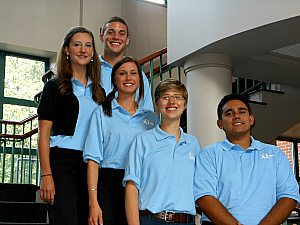 The 2012 John Carroll EIW team members were Kyle Cassidy '15, a management major with an entrepreneurship minor; John Escano '14, a biochemistry major; Jaclyn Mace '13, a communications major and an intern in the Muldoon Center for Entrepreneurship; Lisa Perry '14, a communications major with a minor in entrepreneurship and a concentration in information technology; and Alyse Viggiano '13, a marketing major with minors in entrepreneurship and philosophy.
Beginning Sunday, the students had to develop an idea and, working as a team, come up with enough substance to present it to a panel of judges on Friday morning. During the week, the principle instructors from the entrepreneurship programs of the Entrepreneurship Education Consortium (EEC), an organization of nine Northeast Ohio colleges and universities with entrepreneurship centers, taught a series of topics on entrepreneurship, including Market Feasibility Analysis, Funding Your Venture, Leadership and Building Your Team, and Innovation and Brainstorming.
The John Carroll team's idea involved the use of a gel that has embedded metal fragments in it. The product will wrap an injury and use a magnet to "harden" a splint for cases of a sprain or break. The team repurposed a lab-tested technology. The product will be used to stabilize injured area for transport to appropriate medical treatment facilities.
Also noteworthy was the contribution of Rossario Scibona '12, who participated in EIW 2010. Rossario coached the team, working with them on Tuesday at the alumni dinner at Shaker LaunchHouse and coming to Case Western Reserve on Thursday night to help them tune up their presentation.
Other colleges and universities participating in EIW included Ashland University, Baldwin Wallace University, Kent State University, Lake Erie College, Case Western Reserve University, John Carroll, Cleveland State University, Hiram College, and the University of Akron.
Congratulations to the team for their great work and for bringing home the bronze!
Posted on August 24, 2012