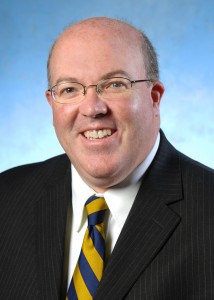 The Ohio Association of College Admission Counseling recently recognized Tom Fanning, director of admission and advancement, with its Life Member Award. The award, which the OACAC gives in recognition of long meritorious service (a minimum of ten years) to the admission profession, was presented to Fanning at the OACAC's annual conference in Worthington, Ohio, on June 11, 2012. He was one of only three recipients.
This award is also acknowledgement of significant participation and contribution to the activities of OACAC. Fanning says that the plaque he received reads "Presented in recognition of your commitment and outstanding contributions to OACAC and continued dedication to the admission profession." Though Fanning does not know who nominated him, he believes it was Mary Grimaldi, director of guidance at Beaumont School. Grimaldi read the award citation at the ceremony, but also told Fanning that others had nominated him as well.
Fanning says he was "completely surprised" by the award. He explained that, when the awards are announced, a description of each winner is read before the name of the winner is revealed.
"As Mary Grimaldi started reading, in her first sentence, she mentioned that the recipient was a 'man for others,'" Fanning described. "When I heard that, I really did start thinking about who was there from Jesuit institutions – Saint Ignatius, Xavier University, Walsh Jesuit High School, Saint Xavier High School, or Saint John's Jesuit High School. As Mary continued her description, I realized it was me. It was a very humbling moment because so many past recipients were 'giants' in the admission profession and mentors to me. I am honored to think that someone thought I might rate with those 'giants.'"
His involvement with OACAC has always been important for Fanning. "It provided the outlet for excellent professional development, great contact with high school guidance counselors (who also belong to the organization) that is helpful in recruitment, the ability to meet colleagues and share best practices, and helped me build friendships in the profession that are most valuable to me."
Fanning, who celebrated his 25th anniversary at JCU last year, sees his work as more than just a job. "I have found great passion in the work of recruiting students to JCU and helping all students and families in making good college choices. To a certain extent, OACAC has helped make a job into a profession and a vocation. I am very thankful for that."
Posted on July 9, 2012