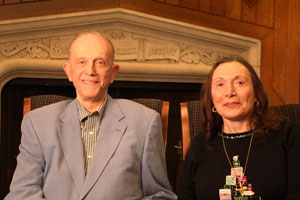 John Carroll University alumnus Frank Schilling, and his wife, Helen, have pledged a total of $16 million to endow scholarships for undergraduate students. The Schillings previously had agreed to give $10 million to create the Schilling Endowed Scholars Program in 2004, but they have now increased their investment to $16 million. John Carroll University President Rev. Robert L. Niehoff, S.J., made the announcement at the University's 125th Anniversary Gala, held December 2, at Cleveland's InterContinental Hotel. The gala caps a year-long celebration of John Carroll's rich history and Jesuit educational tradition (www.jcu.edu/125).
"The Schillings are among our most generous benefactors and the additional funding will be transformational for John Carroll University," said Father Niehoff. "Their generosity has given—and will continue to give—the best students the opportunity to earn a John Carroll degree and make a positive difference in the world." Currently, there are three Schilling Scholars enrolled at John Carroll University. The Schillings' endowment will eventually fund more than 20 scholarships each year, which are renewable, with continued academic achievement.
Schilling, a native of Newark, Ohio, is a member of John Carroll's Class of 1953. He served in the Korean War, and had a successful career at General Electric.
Mr. and Mrs. Schilling reflected on the impact of their commitment to John Carroll University: "This is an investment in an institution we strongly believe in and will help the University recruit the very best students. We expect the scholarship recipients to understand that they, too, have an obligation to continue the tradition of giving in support of education." For each scholarship awarded, the recipients will be asked to contribute to the fund, after their graduation, to the best of their ability so that the program continues to grow.
Posted on December 2, 2011