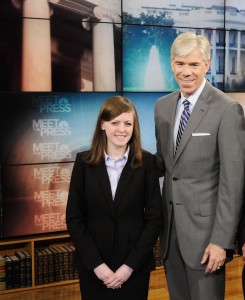 Kristen Jantonio, a 2011 John Carroll University graduate, has been selected as this year's NBC/John Carroll University Meet the Press Fellowship recipient. Kristen earned a Bachelor of Arts degree in Communication and Theatre Arts with a minor in Spanish. She is the 2010 Ohio Broadcasters Foundation Scholarship recipient and  a member of John Carroll University's chapter of Lambda Pi Eta, the National Communications Honors Society.
Kristen is from Brecksville, Ohio.
The NBC/John Carroll University Meet the Press Fellowship was created in honor of the Sunday morning program's legendary host, Tim Russert, a 1972 graduate of John Carroll. It is awarded to a John Carroll University graduating senior motivated to pursue a career in political journalism. The Fellowship is a nine-month position at NBC's Meet the Press.
The Fellowship affords a John Carroll University graduate the opportunity to gain experience in the research and production of the weekly political talk show under the direction of the program's executive producer. The Fellow will be exposed to the roles of editor, reporter, producer, and correspondent.
Posted on September 9, 2011