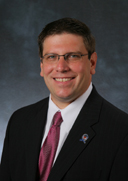 John Carroll University's Boler School of Business will present a lecture by Cleveland City Councilman Joe Cimperman '92 as part of the Spring 2010 Speakers Leadership Series on Wednesday, April 28 at 5 p.m. in room 226 of the Administration Building.
Cleveland City Councilman, Joe Cimperman, a 1992 John Carroll University graduate, represents the city's 3rd Ward. Since 1997, Councilman Cimperman has represented the St. Clair Superior, Payne Sterling, Midtown, Downtown, Tremont, Ohio City/Near West, Duck Island, and Forest City Park neighborhoods of Cleveland. Councilman Cimperman has focused his efforts on the revitalization of the community he represents. His current goals are to create a supportive environment for the arts and culture community with live-work spaces for artists, to maintain and improve the retail environment of Euclid Avenue, and to create new greenspaces throughout the Ward.
Cimperman graduated from St. Ignatius High School in Cleveland and earned a degree in English from John Carroll University. While at John Carroll, Councilman Cimperman served as Student Council President and founded Project GOLD, an international award-winning service organization dedicated to helping underprivileged families. After graduation, Councilman Cimperman worked with Cleveland's I Have a Dream Foundation. As a member of the Jesuit Volunteer Corps, the councilman worked with developmentally challenged adults in Portland, Maine and at the Don Miller AIDS Hospice in Baltimore, Maryland. After a period with the Volunteer Corps, he returned to his hometown to work at Cleveland's West Side Catholic Center.
Posted on April 21, 2010