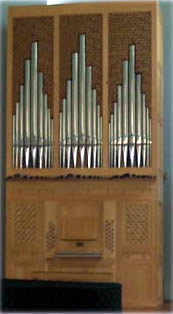 The Mellen Organ in St. Francis Chapel is a Spanish-style organ, built by Patrick Collon, of the Manufacture d'Orgues de Bruxelles.
It was donated in memory of Louise E. Mellen (1914-1977) a benefactor of education and a lover of organ music.
A Spanish-style organ was chosen specifically to extend the already rich organ resources of the Cleveland area. We know of only three other Spanish-style organs in the United States: at SMU in Dallas; Mission San Jose in Fremont, California; and the University of California, Berkeley. Calvert Johnson's Early Spanish Organ Music, volume 2 features the Mellen Organ. A stop list is available for those interested.
The Mellen organ is cared for by Mr. Hal Gober, an organ builder in Toronto, Ontario.