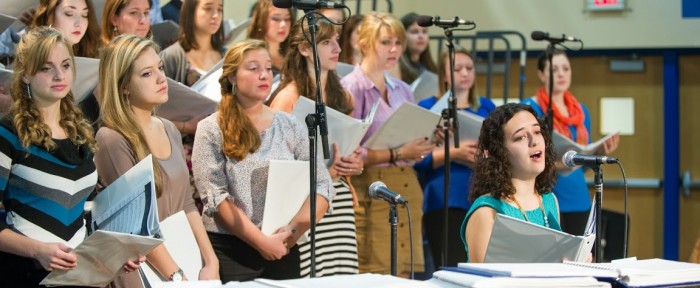 The Department of Liturgical Music and Musical Arts sponsors worship services, recitals, and liturgical music groups for weekly Mass and special events. Read more below.
The Chapel Ensemble
This vocal/instrumental group is composed of students, faculty, and staff. It rehearses on a regular basis and provides music for Sunday liturgies. In addition it works with special liturgies such as the Mass of the Holy Spirit, Homecoming and Family Weekend Mass, Christmas Carroll Eve Mass, and Baccalaureate Mass, as well as for special prayer experiences. No audition is required.
The Chapel Music Ensemble offers sacred, classical, and contemporary music from a wide range of musical genres including Gregorian chant. The group places a special focus on contemporary praise songs. They rehearse each Sunday in the St. Francis Chapel at 8:00pm and sing the Mass directly following the rehearsal at 9:00pm. All are welcome!
Cantors at JCU
The cantors at JCU are a group of vocalists who regularly lead the singing at worship services and liturgies on campus. A primary focus of the ministry of cantor is to proclaim the psalm. The ministry of cantor is essential to the life of our liturgy!
The Schola Cantorum
The JCU Schola Cantorum is a select vocal ensemble that performs sacred literature with the smaller ensemble in mind. This choir will explore, prepare, and perform music literature from a variety of musical periods spanning chant and polyphony through standard sacred repertoire, madrigals, a cappella works of all types, contemporary sacred works and vocal jazz. The choir will sing at major liturgical celebrations, prayer services, and concerts on and off campus.
Festival of Praise
Festival of Praise is a student-led, musical prayer experience offered at John Carroll. This student-led group presents contemporary Christian music in a festival of praise format, where all present participate in sung prayer, raising the rafters in a united song of praise!
Should you be interested in any of the above opportunities, or for more information contact Cynthia Caporella, Ph.D., Director of Liturgical Music and Musical Arts, at ccaporella@jcu.edu or (216) 397-4721.
Click here to learn about our rare and historic Mellen Organ.