There are several opportunities for small group performances that occur at various times throughout the year. Contact any of the band officers or Marty Hoehler at mhoehler@jcu.edu for more information or if you are interested in getting involved in a group!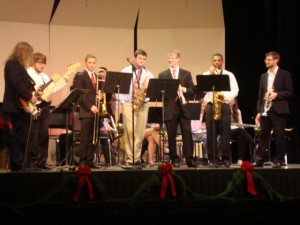 JCU Jazz Combo
Jazz Combo is a small jazz ensemble composed of students who are interested in working on their jazz improvisational skills.  This student-led group performs at various local events on campus.  Audition is required.  For more information, please contact Martin Hoehler at mhoehler@jcu.edu.
Instrumental Ensembles
Once the Pep Band ends its year in the spring, our instrumentalists begin preparation for an end-of-term performance of classical pieces. Those interested in joining our ensemble for the Spring concert should contact Marty Hoehler. You will be contacted in the spring with the date of the first rehearsal.
String Ensembles
The JCU String Ensemble is an ensemble of string players (violin, viola, cello and bass) who perform music literature for the small string ensemble.  Repertoire is drawn from a variety of historical periods ranging from the Baroque to Contemporary periods of Western European music. Additionally, there are opportunities for student instrumentalists to perform at worship and mass services. For more information, please contact Dr. Cynthia Caporella at ccaporella@jcu.edu.