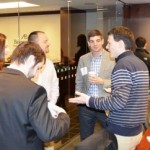 On Thursday, January 8th at 5:00 p.m. until 7:00 p.m. the Muldoon Partners will participate in a session entitled:  Beyond your comfort zone – Personal Growth and Enhancement.
At the beginning of the year, when the Partner's identified their top requests, this session received the most votes for the opening programs of the new year. This session is designed to help you understand managing your growth by assisting you in determining where you want to go this year.  You will also have an opportunity to look at many of the facets of your life to see if they are in balance. This is a great opportunity to start out the year on the right path.
To register for this event, click here.