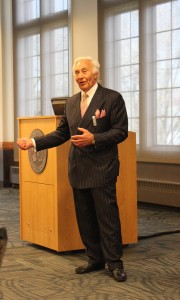 Bob Gunn '69 was the featured speaker at the Entrepreneurship Speaker Series on Tuesday, April 21, in the Jardine Room. More than 175 students attended, the majority from the interdisciplinary entrepreneurship minor and the Boler School of Business' Professional Development Program. Students from communication, sciences, and the Boler School were also in attendance.
Gunn graduated with a Bachelor of Science in business administration. After graduation, he became a certified public accountant and worked for Arthur Andersen & Co. in New York and, later, Boston. In 1973, Gunn became the international controller at the Bank of Boston and then the director of international finance at Digital Equipment Corp. In 1981, he founded Gunn Financial Inc., which has developed, purchased, and owned hotel, apartment, retail, and industrial real estate in Boston, Baltimore, Minneapolis-St. Paul, and New Orleans.
Gunn stressed the importance of flexibility in the workplace. "Situations can change due to circumstances — personal or within the workplace or economy," he reflected. "Don't be so set in your ways that you cannot adapt or make a change. Allow your first job out of college to provide you with the opportunity to learn from the workplace and life and to refine your ideas," he added.
He views entrepreneurship not as a form of owning a business, but rather it's the quality you can provide to a business.
When asked about his John Carroll Jesuit education, he offered the following, "It impacted me as a person. It gave me integrity to have compassion for other people. The thought process of a liberal arts education — the ability to solve problems — is what I took away from my courses," he said.
Posted on May 4, 2015