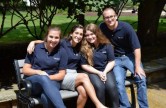 The JCU Entrepreneurship Immersion Week (EIW) team won the 2014 Entrepreneurship Education Consortium Immersion Week, which took place August 3-8, 2014, on the campus of the University of Akron.
The 2014 John Carroll EIW team members were Carolyn Kriebel '15, Matt Sokol '15, Angelica Bucci '15, and Rachel  Distler '15.
Beginning Sunday, the students had to develop an idea and, working as a team, come up with enough substance to present it to a panel of judges on Friday morning. During the week, the principle instructors from the entrepreneurship programs of the Entrepreneurship Education Consortium (EEC), an organization of nine Northeast Ohio colleges and universities with entrepreneurship centers, taught a series of topics on entrepreneurship, including Market Feasibility Analysis, Funding Your Venture, Leadership and Building Your Team, and Innovation and Brainstorming.
The John Carroll team's idea developed a new and creative woman's feminine hygene product that seems to have found a new niche in a multi-Billion dollar national market. Since this is a "big idea" the team is taking it to the Entrepreneur Association's Student Entrepreneur Liaison Committee to determine their next steps.
Other colleges and universities participating in Entrepreneurship Immersion Week included: Ashland University, Baldwin Wallace University, Kent State University, Lake Erie College, Case Western Reserve University, John Carroll, the University of Mount Union, Cleveland State University, the University of Akron, Hiram College, and Lorain Community College.
Congratulations to the team for their great work and for bringing home the gold!
Posted on August 24, 2012