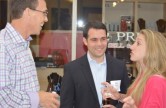 The Muldoon Partners met at the 5th Street Arcade in Downtown Cleveland for dinner and networking.  The event marked the kickoff of the Partners' 2014-2015 program year and the transition of the Muldoon Partner's leadership from Erica Aber, who has been Chair of the Steering Committee for the past three years to Marty Gray.
Erica is a Vice President of the investment firm of Spero-Smith. She was the founding Chair of the organization, which under her leadership has grown from 8 people around a conference table in the Muldoon Center to over 100 members. Lamar Ratcliffe, outgoing Chairman of the John Carroll Entrepreneurs Association said: "Erica is a spectacular leader. The success of the Muldoon Partners is testament to her ability and that of the team she assembled".
Marty Gray is a member of the management team of Aztek Web Marketing, one of the leading integrated marketing firms in Cleveland.
Posted on June 15, 2011