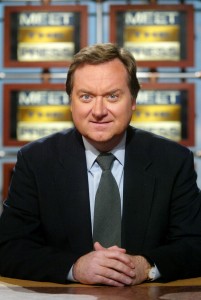 NBC and John Carroll University created The NBC/John Carroll University "Meet the Press" Fellowship in honor of 1972 John Carroll alumnus, Timothy J. Russert.
Tim was an American icon and one of the most trusted figures in the media. As Senior Vice President and Washington Bureau Chief for NBC News since 1991, Russert was a magnetic presence as the Managing Editor and Moderator of "Meet the Press," the longest running, most popular and most influential of the Sunday morning political talk shows during his tenure.
Tim was president of the Student Union at John Carroll, and a respected campus figure during a tumultuous era characterized by the Vietnam War protests. He won the Robert Beaudry Man of the Year Award in his senior year and received an honorary degree in 1997 when he delivered John Carroll's Commencement address.