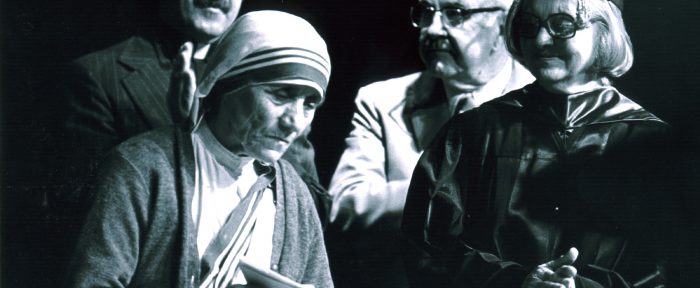 3Saint Mother Teresa of Calcutta was canonized by Pope Francis on Sunday, September 4, 2016.  To read more about this inspirational women who was the founder of the Order of the Missionary Sisters of Charity, winner of the the Pope John XXIII Peace Prize (1971) and the Nobel Peace Prize (1979), and champion and friend of the poor, click here or read a recent article from America Magazine. Students, faculty, and staff will remember her canonization at the 9 pm Mass on Sunday, September 4 in St. Francis Chapel.
Her Connecton to John Carroll University
As many long-time JCU people will remember, Saint Mother Teresa was a recipient of an honorary Doctorate of Humane Service from John Carroll University on Monday, April 24, 1978.  In characteristic fashion, she accepted the honorary degree "in the name of the poor."   In her afternoon address to a capacity crowd in Kulas Auditorium she explained:
In the name of the poor, the hungry, and the naked, and the homeless and the unwanted, and unloved and uncared; in the name of all those who have forgotten human love, human touch, what it is to feel being wanted, having someone; in the name of all those who are sharing the beautiful work together with us, I accept this honor because in giving it to me, actually you are giving it to them.  Your are recognizing right here in this university the presence of the poor and in their name I am grateful…The poor are very great people.  They are very great and wonderful… 
Read the rest of her address here.
Announcement to John Carroll University community by President, Father Henry F. Birkenhauer, S.J.
News release about Saint Mother Theresa's visit to the university