Stay tuned for details on our Spring 2017 event!

---
Fall 2016 Speaker- September 22nd, 2016

Kevin M. McMullen
Chairman, CEO, & President of OMNOVA Solutions, Inc.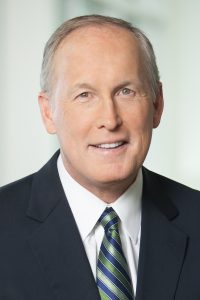 Kevin McMullen is Chairman, Chief Executive Officer, and President of OMNOVA Solutions Inc. (NYSE: OMN). Mr. McMullen was elected Chairman of OMNOVA's Board of Directors in February 2001 after being appointed CEO in December 2000. He joined the company in 1996 as President of the Decorative & Building Products business. He is Chairman of the Board of Trustees of Ideastream and is also a member of the Board of Directors of Steris Corporation (NYSE: STE). Previously, he worked as General Manager of Business Development and Strategic Planning for General Electric Corporation's Lighting Division.  He also was a management consultant with McKinsey & Company, working with Fortune 500 companies on corporate and business unit strategy and functional excellence.  Mr. McMullen holds a bachelor's degree in economics from Denison University and earned an MBA from the University of Chicago.
OMNOVA Solutions is a nearly $1 billion global innovator of performance-enhancing chemistries and surfaces used in products for a variety of commercial, industrial, and residential applications. As a strategic business-to-business supplier, OMNOVA provides The Science in Better Brands, with emulsion polymers, specialty chemicals, coated upholstery fabrics, and specialty laminates that deliver critical performance attributes to top brand-name, end-use products.
OMNOVA has strategically located facilities  in North America, Europe, and Asia. Headquartered in Beachwood, Ohio the company brings its solutions to the global marketplace and services customers in more than 90 countries.