Stay Tuned for Information on our Spring 2016 Speaker!
---
Spring 2015 Speaker
Michael F. Hilton, President and Chief Executive Officer of Nordson Corporation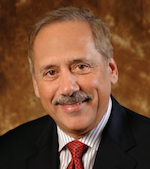 Michael F. Hilton is president and chief executive officer of Nordson Corporation (NASDAQ: NDSN). Since joining Nordson in 2010, Mr. Hilton has led the company to record sales and earnings results through a deepened focus on innovative new products, emerging markets, continuous improvement, and strategic acquisitions. Prior to joining Nordson, Mr. Hilton spent 33 years at Air Products & Chemicals,Inc. (NYSE: APD) in a variety of roles of increasing responsibility.
Mr. Hilton serves on the board of directors of Ryder System Inc. (NYSE:R); the board of trustees and the executive council of the Manufacturers Alliance for Productivity and Innovation (MAPI); the board of MAGNET (Manufacturing Advocacy and Growth Network); and the board of Friends of Breakthrough Schools. He is also a board member of the Nordson Corporation Foundation and is active in United Way and a variety of other charitable endeavors. He also is the chair of the Ohio Federation of Independent Colleges (OFIC) 2015-16 Statewide Campaign. Mr. Hilton holds a B.S. in chemical engineering and an M.B.A. from Lehigh University.
Nordson Corporation engineers, manufactures, and markets differentiated products used to dispense, apply, and control adhesives, coatings, polymers, sealants, biomaterials, and other fluids; to test and inspect for quality; and to treat and cure surfaces. The company serves a wide variety of consumer non-durable, consumer durable, and technology end markets. Founded in 1954 and headquartered in Westlake, Ohio, the company has operations and support offices in more than 30 countries.