Spring 2017 Event
Wednesday, March 22nd, 2017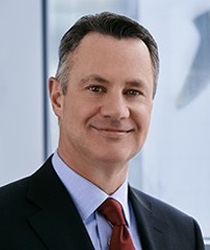 Richard Kramer
 Chairman, CEO, & President
The Goodyear Tire and Rubber Company   
Richard J. Kramer is Chairman, Chief Executive Officer and President of The Goodyear Tire & Rubber Company (NASDAQ: GT).  Mr. Kramer became CEO in 2010 and was elected Chairman by Goodyear's Board of Directors later the same year.  After initially joining Goodyear in 2000, Mr. Kramer steadily rose through the company in a series of key leadership roles over the course of a decade.  As president of Goodyear North America in 2007, Mr. Kramer guided the company's largest business through the global recession, positioning it for sustained profitability in the years that followed.  Before joining Goodyear, Mr. Kramer was a partner with PricewaterhouseCoopers for 13 years, including a three-year assignment based in Paris, France.
Born in Cleveland, Mr. Kramer attended John Carroll University, earning a B.S. in business administration in 1986.  He remains an active JCU alumnus and has served on the school's board of trustees since 2007.  Mr. Kramer is also engaged in community leadership roles with the Akron Regional Chamber of Commerce and Akron Tomorrow.  He is currently on the board of directors for The Sherwin-Williams Company and is a member of The Business Council.
Founded in 1898, Goodyear's standard for success has been based on a commitment to continuous improvement and innovation. Headquartered in Akron, Ohio, approximately 66,000 associates are employed at facilities across six continents and annual sales exceed $16 billion. In addition to Goodyear-brand tires, they produce several other well-respected international brand names including Dunlop, Kelly, Fulda, Sava and Debica, and their non-tire business provides rubber products and polymers for a variety of markets.