Spring 2016 Speaker
Joseph M. Gingo,  Chairman of the Board at A. Schulman, Inc.
---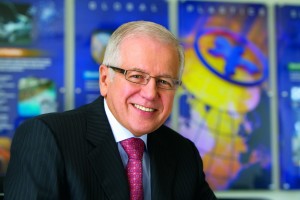 Joseph M. Gingo is chairman of the board at A. Schulman, Inc. (NASDAQ: SHLM). Mr. Gingo has served in this role since Feb. 26, 2008, and recently retired from his role as chief executive officer and president of the company. Prior to joining A. Schulman, Mr. Gingo was employed at the Goodyear Tire & Rubber Company for more than 40 years. Mr. Gingo earned a bachelor's degree in chemical engineering from Case Western Reserve University, a master's degree in business management from the Sloan Fellows Program at the Massachusetts Institute of Technology, and a law degree from the University of Akron. He has been a member of the A. Schulman board of directors since 2000.
A. Schulman specializes in custom performance colors, masterbatch solutions, specialty powders, engineered composites, engineered plastics and distribution services. With an extensive global footprint and technology expertise, the company serves a wide range of markets such as packaging, mobility, building & construction, electronics & electrical, agriculture, personal care & hygiene, sports, leisure & home, custom services and others.
Driven by its "3-S" execution strategy focused on safety, smart sales and smart savings, the company is seeking growth opportunities through strategic acquisitions, joint ventures, geographic expansion, introduction of new products, and further penetration of its technologies and services into new markets. Headquartered in Akron, Ohio, with approximately 5,000 employees and 58 manufacturing facilities globally, A. Schulman reported net sales of approximately $2.4 billion for the fiscal year ended August 31, 2015.