Teresa Noewer, from Painesville, OH, says she chose John Carroll becau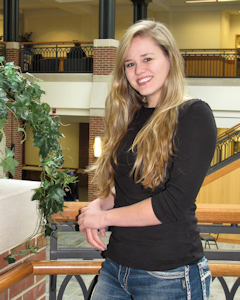 se on her first visit she really felt a sense of community as if she were at home. Our strong mathematics program "sealed the deal." From a young age she was good at math, developing a love for problem solving, so majoring in math was the perfect fit for her. She also has a minor in Business. With courses and study in both areas, she has put that knowledge and skill to use at Lubrizol as an America's Procurement intern, completing projects that include spend analyses, monthly reports, and inventory coverage analyses among other duties.
Her favorite professor is Dr. Spitznagel, who, she says, has a way of explaining difficult concepts that make them easy to understand, and he is eager to see everyone succeed.
On the campus front, Teresa is a member of Pi Mu Epsilon, the national mathematics honorary society, and the varsity volleyball co-captain. When not in classes or at Lubrizol or on the court, she likes to fish. Last summer on a trip to Canada, she caught a 28 lb. lake trout!
After graduation in May she will be starting full time as a Procurement Analyst at Lubrizol.