Rachel Widman is a senior mathematics major from Sandusky, Ohio. Since Rachel went to a small high school, she says "I was very comfortable with the small-school atmosphere and the learning environment at JCU. My sister also attended John Carroll, and I always felt at home while visiting her here."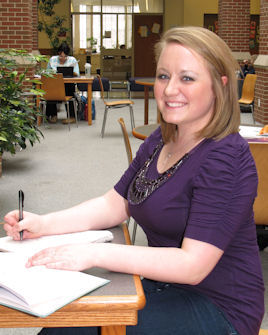 Rachel says that math was always her favorite subject in elementary and high school. "I realized my freshman year," she says, "that I could not imagine a semester at JCU without a math class. But, while it is challenging, I love the way it makes me think outside the box."
Some of Rachel's favorite classes at JCU have been Operations Research and Discrete & Continuous Modeling, because of their emphasis on real-world problems. She has also enjoyed the Fractal Geometry course, "because I find all the images and visuals so interesting." In addition to her major in mathematics, Rachel is also earning minors in Spanish and in Probability & Statistics. Some of the results of her statistical research were presented at the 2009 Joint Statistical Meetings in Washington, D.C.
On campus, Rachel works in the Institute of Catholic Studies office. During the past two summers, she also worked with the New Student Orientation program, and was the Senior Orientation Leader for the summer, 2010, orientations. About this experience, Rachel says "I really enjoyed meeting the new students and sharing my experiences with them." She has also been a varsity cheerleader, and has held leadership positions in her sorority, Kappa Kappa Gamma, for the past four years.
After graduation in May, Rachel will begin a Master's program in Education at the University of Akron, where she has been awarded a prestigious Woodrow Wilson Fellowship. After a year, when she completes her master's degree, Rachel will begin sharing her love of mathematics as a high school teacher.