Nicholas Fill, a senior Computer Science major and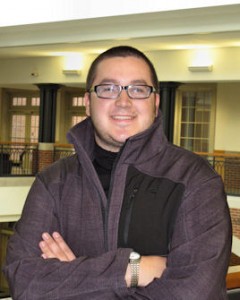 Business minor from Hermitage, PA, says he chose JCU not only because it was neither too small nor too big but also because he found our students and faculty to be kind, sociable, and community-minded. He was also impressed with the Dolan Science Center and its state-of-the-art facilities and computer labs. Having come from a family involved in computer science, experimenting with website development in high school, and pursuing his interest in video editing and production, he found computers and technology in general to be fascinating and wished to be a part of the technological world, deciding that no other world would interest him as much. Putting that desire to good use, along with his CS coursework, Nick has worked as an intern at CVS Caremark in their IT Department on a SET (Small Enhancements Team), handling problems with data loads on the production database working with Microsoft SQL while learning how to better manage his time to finish projects and work efficiently with a team, all the while taking heavy course loads and maintaining a very high GPA.
Although Nick has enjoyed and learned a lot in all his CS classes, Robotics has been among his favorites, getting to experiment with and learn to program different robots to do different things. Dr. Palmer, the instructor, took Nick and some others to a Robotics Competition, which he found "very cool" to see. The other favorite is Web Design, creating sites from scratch while learning HTML, CSS, and Javascript .
When not working and studying, Nick enjoys recreational sports such as football, basketball, and racquetball. He also enjoys developing websites for his family, fantasy football, and a musical band. After graduation in May he plans to work in a company in or near Pittsburgh and also work toward a Master's degree in Computer Science. With his outstanding record of past and present performance he should do very well indeed!