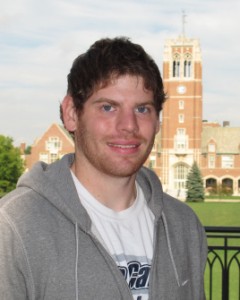 Mitchell Kearney is a senior Mathematics major from Wooster, Ohio. Looking for a challenging college in a big city, Mitch found that John Carroll fit his criteria perfectly. "Cleveland is my favorite city in Ohio, and John Carroll provides a quality, well-rounded education," Mitch says.
Coming out of high school, Mitch knew that he wanted to major in mathematics. "It has always been my favorite subject," he says, "and the thought of getting paid to practice mathematics sometimes overwhelms me!"
Mitch's favorite mathematics professor at JCU has been Dr. Carl Spitznagel, who has also been his academic advisor. While Mitch says that Dr. Spitznagel's classes have been among the hardest he has taken, "he is always in his office to help, and he makes the more theoretical classes enjoyable and manageable."
In his spare time, Mitch enjoys baseball and football, and also plays as a setter on the JCU men's volleyball team. Mitch's other recreational activities include snowboarding, scuba diving, golf and playing backgammon–a game with surprisingly strong mathematical connections. Mitch also works as a tutor in the mathematics tutoring program at JCU and, on some weekends, returns to Wooster to work for a tree trimming and removal service.
Mitch is earning the Bachelor of Science degree in math, along with coursework to prepare him to teach in high school. And while he may decide to choose a non-teaching job in industry immediately after graduation, Mitch is certain that teaching is somewhere in his future. During the spring semester, Mitch will be doing his student teaching at Orange High School, in suburban east-side Cleveland. He will also assist in coaching the baseball team at Orange. Wherever Mitch's career takes him, he will be well prepared, having the B.S. degree in math as well as teaching licensure.