Michael Ciancibello is a senior from Mayfield Heights, Ohio, majoring in Computer Science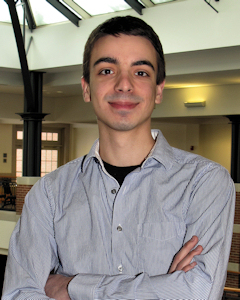 with a minor in Philosophy. Why Philosophy? Michael has always been interested in the ancient Greek philosophers and their efforts to understand the world through logic, and computer science definitely entails logic and problem solving. He says that he chose JCU for several reasons: its excellent reputation, foundation in Jesuit education, and proximity to home.
His interest in computers began at an early age. When he was five, he started working with an old computer his father had and then advancing to exploringing new technologies and programming (the behind-the-scenes aspect of software). Among all his CS courses he has particularly enjoyed and valued CS 470 Software Engineering Project, working on a real-world project with a client with high expectations and gaining experience in software development, learning the process from start to finish and getting the bigger picture rather than merely writing computer programs.
He has put that knowledge and experience to work at the Cleveland Clinic as an intern in the recently developed Radiology Informatics area, beginning in the spring of 2013 and continuing into the fall of 2013. He is currently serving as a mentor to the new student interns at the Clinic and working there part-time for the Radiology Informatics specialists. Michael also had a ten-week internship at American Greetings in the summers of 2012 and 2013, involving software development for mobile apps such as iPhone and Android. When not mightily involved in his coursework and involvement with the Cleveland Clinic, he tries to spend some quality time with his family and friends and relaxes by playing video games and dabbling in photography.
After graduation in May he plans to pursue a career in software development in the Cleveland area because of the potential he sees for many new technology jobs and opportunities.