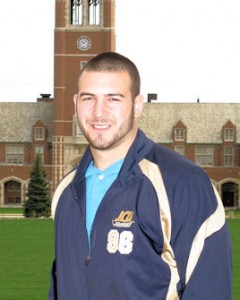 Mike Cannell is a senior computer information systems major from Macedonia, Ohio. Mike, who says that he liked the idea of a Catholic university, chose John Carroll also because of its "great academics, small class sizes, and attractive campus." Mike was also recruited to play football at JCU, and has earned a varsity letter for three years as a defensive lineman for the Blue Streaks.
Mike says that he has "always enjoyed tinkering with computers, even as a young child," and was totally in his element in his mobile technology course with Linda Seiter, Ph.D., where he learned to create applications that could be used on his android phone. He adds that Dan Palmer, Ph.D., was one of his favorite professors "because of his programming knowledge and his care for students."
At home in the outdoors, Mike enjoys golfing at least twice a week, and has had summer jobs in landscaping. During the seasons less conducive to outdoor activities, Mike enjoys playing Xbox, watching TV (ESPN, History Channel, SpongeBob), and eating(!) He also confesses an interest in a possible move farther south, to get away from Northern winters, and maybe spend more time on the golf course.
After graduation in December, Mike has his sights set on becoming an IT professional in a school setting, while also serving as a high school football coach.