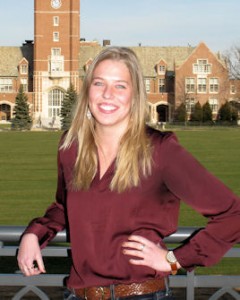 Katie Ek is a senior Computer Information Systems major from Erie, Pennsylvania, who is also earning a minor in Business. Katie, who says she didn't want to be "just a number" at a large school, chose John Carroll for her college education in part because of its size. "The size of the classes provides for a personal experience for each student," Katie says.
Katie did not decide on her major until her sophomore year, when her advisor, Dr. Marc Kirschenbaum, suggested that she try the Introduction to Software Development course. "I immediately knew that this was something I wanted to do," said Katie. "It was equally challenging and rewarding, which were both attributes I had been looking for in an area of study."
In the Computer Informations Systems major, Katie's favorite classes have been those dealing with databases, SQL and website design. Katie is currently utilizing her CIS background in her part-time job with Dwellworks, a Cleveland-based company that provides a suite of services to clients in the real estate and mortgage industries. Starting last summer as a full-time IT intern, Katie was asked to stay on part time at Dwellworks, through her senior year. Her responsibilities with the company include maintaining the company iPads, updating their Sharepoint site, and creating and running SQL Server Reports. Katie is also serving as a computer science tutor for the JCU Department of Mathematics and Computer Science.
Although she grew up in Pennsylvania, Katie is a "diehard Cleveland Browns fan." On campus, Katie is involved in the Hope for Honduran Children and Relay for Life programs, and is also a member of the Phi Eta Sigma national honor society. In her down time, Katie enjoys "discovering, listening to, or learning to play music." She has played the piano by ear for about fourteen years, and is now attempting to learn to play the guitar.
As if her life were not busy enough, Katie also has an internship at the Cleveland Clinic, where she is kick-starting the new JCU/Cleveland Clinic collaborative Healthcare Information Systems program, which may eventually become a major at JCU. Along with Dr. Dan Palmer of JCU and computing professionals at the Clinic, Katie is working on creating software to test the quality of CR Readers (Computed Radiography) at the Clinic and its various branch campuses. Katie also regularly meets with students in Dr. Palmer's Software Development Practices course, to keep them informed about her software project, and also to raise awareness of the exciting new collaboration between JCU and the Clinic.
After graduation in May, Katie plans to remain in the Cleveland area, in a career that will allow her to bridge the gap between Information Technology and Business.