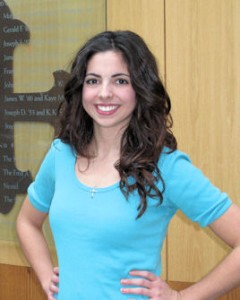 Jenna Morell
After hearing rave reviews from students, alumni, and relatives about JCU's close-knit community and quality education (with a little dose of Browns/Indians fandom thrown in), her visit sealed the deal for this Poland, Ohio native to come here.
Filled with a desire to be the kind of math teacher she never had in middle and high school (except for one, she says), Jen is concluding her  BA degree requirements student teaching at a nearby high school.
Her love of mathematics only grew from classes here, her favorites being MT 233 Calculus 3 and MT 200 Explorations in Mathematics, the latter of which gave her a taste of many different topics that, she says, are fun, interesting, and thought-provoking, and, which can carry over and be a positive influence in her teaching.
Besides teaching math, Jen hopes to apply her athletic interests and talents in coaching, such as swimming, running, personal training. She is currently training for a sprint triathlon and eventually a full triathlon.
When not in a classroom or at a desk poring over fascinating math problems or at the gym, Jen spends the little relaxation time she has reading  thriller novels (logic and problem-solving included!). This summer, besides job-hunting, Jen hopes to work as a camp counselor or summer school helper or in recreation. In the future, she wants to pursue the master's degree.
We have often received glowing comments over the years about graduates of our Teaching Math programs (both undergraduate and graduate), and we look forward to the time that Jenna Morell's contributions and successes are among them.