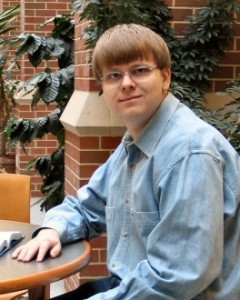 Jason Dengler is a senior computer science major from Concord, Ohio. (Actually, Jason recently completed all of his graduation requirements — but we'll still claim him as a student for a while!) Jason came to John Carroll thinking that he wanted to major in business, but his experiences in Dr. Linda Seiter's Introduction to Software Application Development course changed his mind, and made him realize that what he really wanted was to be a programmer.
Jason has always enjoyed playing computer games–and although you can't make a living playing video games, when Jason took Dr. Dan Palmer's class on Gaming and Graphics, he began to realize that he could make a living in a career involving programming games! Jason now plans to go to graduate school for a master's degree in computer science, and then hopefully to move into the field of computer game design and programming.
Last summer, Jason worked with the JCU swarm research team, with funding provided by the Huntington-Codrington Fellowship program, and has now made two professional presentations as a result of his undergraduate research. One paper, "Tools for Evaluating Human-Assisted Swarms" was presented at the national MCURCSM conference. He also presented a poster on "Open Source Content Management Systems and the Spring Framework " at JCU's Celebration of Scholarship last spring.