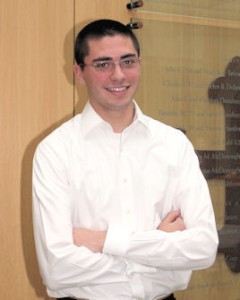 Eric Levicky is a senior Computer Science major from Solon, Ohio. Eric says he chose John Carroll for his college education "because I was most comfortable here–a combination of proximity to home and a welcoming feeling when I came here to visit."
When he first decided on JCU, Eric planned to major in Business Information Systems. However, after his first two computer science classes, he decided on Computer Science as his major. "That was one of the best decisions I have ever made," Eric says. With advanced placement in CS, Eric's first Computer Science classes at JCU were Database Systems and E-Commerce. "These classes made me realize how much I enjoy coding, along with the feeling of accomplishment when the code works," he says.
Eric finds it hard to single out any class as his favorite, and says that each CS class has impacted both his college experience and his professional career. After taking the .Net course at JCU, Eric began a position last spring as an intern at Hyland Software, a Cleveland-based company that develops software solutions for a wide array of commercial, financial and government customers. According to Eric, "the level of detail and attention to coding practices covered in the .Net course allowed me to begin work on many projects immediately after starting with Hyland."
Eric continued his internship during the summer, and is now still working part-time at Hyland, where he is a member of the Quality Assurance Solutions team. He has also started a second part-time job with "duncanllc," a Cleveland-based cloud service provider specializing in streaming solutions for modern business. As Duncan's Director of Social Media, Eric is in charge of posting podcasts and tweets, and making modifications to the company's web site.
On campus, Eric is Vice President of Communications for the Sigma Phi Epsilon fraternity, the local chapter of a national fraternity dedicated to "Building Balanced Leaders." Between SigEp, working two jobs, and taking classes at a pace that will enable him to graduate a semester early, Eric doesn't have a lot of "down time." But in his free time, Eric enjoys watching movies and going for "adventurous rides in the car or on my motorcycle." (Hopefully not at the same time, Eric!)
After graduating in December, Eric plans to start working full-time in a position that will continue to offer him daily challenges, as well as the opportunity to continue his education. With his strong background in computer science and the practical experience he has already gained, Eric will certainly be a prize catch for some company!