Cedric Jackson, Jr.,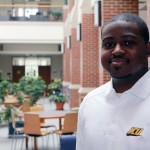 from Cleveland Heights High School, Cedric began his search for a college to attend and learned that John Carroll's mission lined up with values important to him, but he wasn't initially aware of all the academic and social service programs it offered. With his acknowledgement of and gratitude for his supportive family, the campus community, and class learning and service experiences Cedric saw the importance of faith, conviction, and pursuit of excellence. After plans to major in Accounting, he soon realized that his academic interests lay elsewhere, so he switched to a program in the Mathematics and Computer Science Department. During one of his first CS courses Cedric discovered his passion for Web and Graphic Design and continued toward a major in Computer Information Systems, which he will complete in December 2013. What he learned has helped him implement professional-quality websites, starting "CEDRICMedia," which specializes in website construction, graphic art design and music production, with clients from all over Ohio and Michigan. One of his goals is to share his skills and experience with those who have not had the privilege of higher education.
As an Arrupe Scholar, Cedric says he learned what it is to discern vocation, which describes a specific calling to act from God, entrusting us with the responsibility of educating, training, or honing the skills necessary to successfully operate within our chosen professions or lifework. He gave a "Celebration of Scholarship" presentation in which he reflected on how he could use his JCU education to make a difference and give back to those who have not had the privilege of higher education. Most important to him is being able to share the knowledge he has gained to have a positive impact on society.
When not busy with his classes, company and Arrupe Scholar activities, Cedric has worked on campus as a receptionist, IT helper and graphic designer for JCU's Center for Career Services and continues his love of music, which he has applied as part of the work involved in CEDRICMedia and in his own professional activity as a drummer, bassist, and pianist.