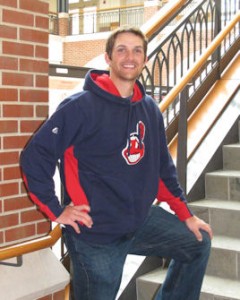 Brian Benander is a senior from Richmond Heights, Ohio, who is earning a double major in both Mathematics and Computer Science. Brian says that math was always his strongest and favorite subject–a characteristic of others in his family, including his father, who is a math teacher. Brian chose to add computer science to his academic portfolio "because I knew it has similarities to math, and also knew that CS is a growing field with many job opportunities."
Brian plays third base on the Blue Streaks varsity baseball team, and holds a number of team and conference records. Last year, Brian led the team in runs, triples and batting average, and led the Ohio Athletic Conference in on-base percentage. He also has the dubious honor of holding the 2010 national Division III record for being hit by pitches! Brian is also a member of the JCU Conservative Club and has been very involved with Right to Life, serving as an Activities Coordinator. He has also gone to the national March for Life in Washington, DC, for 12 straight years.
Off campus, Brian serves as scorekeeper for numerous local recreational basketball and hockey leagues. Last summer, he kept score for local adult softball leagues every night, and maintained the baseball fields at the local community park near his home. Some of Brian's favorite classes at JCU have been the statistics classes taught by Dr. Tom Short. Having had an interest in sports statistics even before college, Brian says that "the classes have taught me the correct way to look at statistics without getting fooled."
As an avowed fan of the Cleveland area in general and the Cleveland Indians in particular, Brian's ideal career would probably be as a professional baseball player (for the Indians, of course). But his fall-back career, which he will begin shortly after graduation, is likely to be in the area of computer software development.