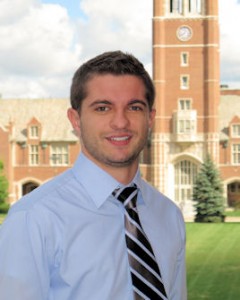 Boban Josipovic is a senior Computer Science major from Eastlake, Ohio. Born in Croatia, Boban moved to Germany when war broke out in the Balkans. He has now been in the United States for ten years.
Boban says that when he was younger he "was always into computers and how they worked." In high school he played around with HTML and creating web sites, and ever since then he knew he wanted "to do something with code."
His favorite classes at John Carroll have been the Web Design and Programming class with Dr. Linda Seiter, where he learned a lot about the newest web technologies; and Software Engineering with Dr. Dan Palmer. "You get to work on projects for real life clients," he says. "It helps you prepare for the real world."
Boban chose John Carroll because "it is a great college," and within easy commuting distance for him. Access to the Cleveland area turned out to be quite important for him, as he has been working since last February as an IT intern in the Finance and Systems Administration department of Parker Hannifin Corporation. Parker Hannifin, the world's leading manufacturer of motion and control systems, is headquartered just 4 miles from JCU. Boban, who landed his internship at Parker through the John Carroll Center for Career Services, has had a number of interesting assignments, including developing financial reports using WebFocus, and helping to develop Parker's supplier maintenance system.
In his spare time, Boban enjoys playing basketball, football, soccer and tennis. After graduation in May, Boban would like to remain in the Cleveland area, where he plans to pursue a master's degree in computer science while working in the information technology field.